Composer:
Composed: 2001 Duration: mins.
Instrumentation:
ISMN: 979-0-9009559-9-9 Catalogue: RM463
Level: Country: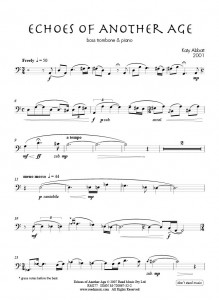 As a note of curiosity, the opening theme of the piece was composed on the evening of September 11th Eastern Standard Time (EST) of that year at the exact moments that the World Trade Centre in New York was being attacked.  The composer had no idea of the events on the other side of the world at the time of writing and the musical content is not related to these events.  However, the title, Echoes of Another Age is an acknowledgment of the change in awareness these events created of how we now live and perceive our world.