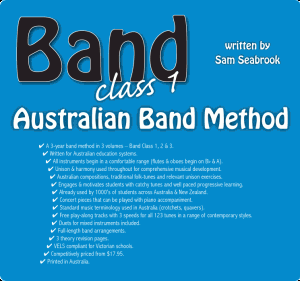 The Australian Band Method.
Band Class 1, 2 & 3 is a 3-year band method written by Australian Sam Seabrook and is specifically designed for Australian classroom band programs. Through the innovative use of harmony, all instruments begin in a comfortable range (see the chart to the left). This alleviates the long-standing problem of the flutes, oboes and horns falling behind. Each page begins with unison exercises that extend into simple harmony using the comfortable keys of Bb and later Eb concert.
The music is made up a mixture of well-known folk tunes and classical themes complimented with original compositions by Sam Seabrook. Technical exercises in unison prepare each new concept before new tunes in harmony are introduced.
Download Play-along Tracks
Download free mp3 play-along tracks with 3 different speeds.
Click zip file to download all available tracks.
All MP3 tracks have been encoded at 256kbps for high quality play back.
Slow (112MB) | Med (90MB) | Fast (77MB)
Free Samples
Download 26 tunes from the first 4 pages for a free trial.
Please print out and try Band Class with your existing ensemble. You will quickly see how it works and how it is tailored specifically for Australian schools music programs. Please contact Reed Music if you would like a sample part book of your choice posting to you.
Download PDF score & parts tunes 1-26 (8mb)
The use of harmony not only allows the instruments to play in a comfortable range but also creates an authentic band sound right from the beginning. The progression of exercises and tunes develops well-rounded musicians capable of accurate intonation, precise rhythm and harmonic awareness.
The free play-along tracks recorded at 3 speeds can accompany all 123 tunes and exercises in the book. Students can practise at home with a motivating accompaniment developing clear pulse, musical phrasing and breathing capacity. Students can choose which speed suits them at their level of development.
The books are competitively priced and printed locally in Australia. These books are already used by 1000's of students across Australia and New Zealand.
Band Class is suitable for primary and secondary band programs. It complies with the Victorian Essential Learning Standards (VELS) and includes clear assessment guidelines for the teacher and student. Written to the standards of 'A Guide for Developers of Learning Programs', a curriculum outline for instrumental programs developed by the Department of Education, Queensland and the Ministry of Education, Victoria.
The books contain clear set up guidelines complete with pictures of labeled instruments, posture guide and a brief history of each instrument. The comprehensive percussion parts include standard rudiments and techniques. Clear self-assessment guidelines allow students responsibility for their own learning. 32 popular tunes can be performed with piano offering an enrichment exercise for students. There are further extension exercises including composition and improvisation tasks. All theory follows standard music terminology used in Australia (eg. crotchets & quavers).
Each student books contains: 44 unison exercises - 43 original compositions - 32 arrangements of popular tunes (variety of styles) - extension exercises 'for your instrument only' - 5 christmas carols - 2 full page concert band works - duets page - rhythm exercises - scales page - full glossary.
The score contains the full content of the student books with all fingerings and theory. There are also tips and instrument specific guidelines for each tune, extension exercises including suggestions for further development of techniques and concepts.