Reed Music publications are available directly from our secure online store and from select music retailers.
Schools:
Please fax or email your official school purchase order.
View our contact details for fax and email.
Quickly find the music that you want:
Recordings: Hear live and studio recordings.
Most recordings are 1 minute samples to give you a good idea of the piece.
Score samples: Click the score to see a full size sample.
You can view both the score samples and listen to a recording at the same time.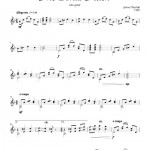 Level: Each piece is assigned 1 of 5 levels from A (easy) to E (advanced).
Books that contain several pieces may be assigned multiple levels (eg. B-C).

Australian Exam music: View our list of over 200 titles suitable for Australian music exams including: AMEB, AMEB Leisure, VCE and HSC.
Composers: View biography details and full catalogue of each of our published composers.
How to purchase.
All products may be purchased securely from our online store using your credit card, bank account or PayPal.
No PayPal account? You still may pay with credit card via PayPal.
Note: You will not be able to pay via a credit card that is linked to your PayPal account. Please use an alternate card.
Special pricing is available for bulk purchases.
Visit our contact page for all enquiries including fast quotes.
View our terms and conditions >