A great value repertoire collection including 23 original Australian band compositions for levels 1½ - 3.
Styles include rock, blues, contemporary, rag, swing, hoe down, march and more.
Full score includes all parts, program notes, fingering charts and performance instructions.
Duration of pieces range from 1½ - 4 minutes with more than 1 hour of music.
Additional band exercises, warm-ups and scales.
Can be used as a repertoire book or as a continuation from Band Class 2.
Handy quick reference fingering charts.
Extra instrument parts for larger groups including 1st and 2nd books for flute, clarinet, alto sax, trumpet and trombone.
Perfect for concerts.
Download the brochure.
Works by Australian composers:
Katy Abbott, Katy Addis, Martha Baartz, John Barrett, Taran Carter, Barry Cockcroft, Brendan Collins, Lachlan Davidson, Andrew Hackwill, Paul Marshall, Matthew Orlovich, John Peterson, Adam Pinto, Paul Witney
Separate books for:
Woodwinds: flute 1, flute 2, oboe, clarinet 1, clarinet 2, bass clarinet, bassoon, alto saxophone 1, alto saxophone 2, tenor saxophone, baritone saxophone
Brass: trumpet 1, trumpet 2, French horn, trombone 1, trombone 2, euphonium, Eb/Bb tuba
Percussion: snare drum/bass drum, timpani, auxiliary percussion, mallet percussion
Others: piano, bass guitar, full score
Pricing:
Instrument books $19.95 (23 pieces on 48 pages)
Full score $49.95 (370 pages)
Download Free Recording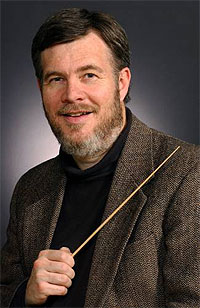 Conducted by Rob McWilliams
Rob McWilliams, Ph.D.
Associate Professor of Music
Director of Bands & Instrumental Music Education
University of Wisconsin Oshkosh
Download the album (zip file 21 MP3 tracks - 52MB)
Sit back and listen to all tracks:

Sixenowt Andrew Hackwill
Queensland Jamn Lachlan Davidson
Piranha Paul Marshall
Red, Yellow and Blue Lachlan Davidson
Reminiscences Lachlan Davidson
Swingin' Katy Addis
June Day Katy Abbott
Backyard Swing Lachlan Davidson
The Purple Penguin Martha Baartz
Circus Rondo Brendan Collins
Processional Katy Addis
Cha Cha Boom John Barrett
Tango Paul Witney
Flying Flynn Brendan Collins
The Wail Taran Carter
A Lane In Wales Lachlan Davidson
Eat My Shorts Dance John Barrett
On Crests of Waves John Peterson
Prelude Adam Pinto
Blow Down Barry Cockcroft
Big Cats Matthew Orlovich
Arrival of the Baby Elephant Matthew Orlovich
Hippopotamusic Matthew Orlovich