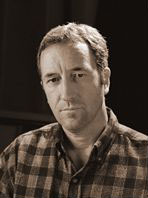 Brenton Broadstock was born in Melbourne, Australia in 1952. He studied History, Politics and Music at Monash University, and later composition and theory with Donald Freund at Memphis State University in the USA and with Peter Sculthorpe at the University of Sydney. The University of Melbourne awarded him the Doctor of Music degree in 1987.
In 1991 he signed a publishing contract with G. Schirmer, Australia (Music Sales). He has won numerous prizes for composition including First Prize in the 1981 Townsville Pacific Festival's National Composition Competition for his orchestral work Festive Overture; the Albert Maggs Award; two APRA Music Awards for his orchestral works The Mountain and Toward The Shining Light; First Prize in the Hambacher Preis International Composers' Competition, West Germany for his Tuba Concerto; and in 1994 he received the Paul Lowin Song Cycle Award, Australia's richest composition prize, for Bright Tracks for mezzo soprano and string trio. His orchestral work Stars In A Dark Night (Symphony #2) received four 'Sounds Australian' National Music Critics' Awards including 'Best Australian Orchestral Work in 1989' and was the Australian Broadcasting Corporation's entry to the prestigious Paris Rostrum of Composers in 1990. In 2001 he received the Australian Music Centre's Victorian Award for Best Composition – Dark Side Symphony #5, and in 2002 his Federation Flourish was nominated for an APRA/AMC "orchestral Work of the Year".
His music has been performed at many international festivals including The Stroud Festival, England; the 11th Berlin Biennale; the Festtage fur Musik in East Berlin; Darmstadt Summer School, West Germany; the Music Today Festival, Tokyo; the Hong Kong and Oslo World Music Days; Asian Music Festivals in Japan and Korea; Musica Nova Festival in Munich; the BBC Proms; the European Brass Band Championships in Birmingham; and in Australia at the Adelaide Festival, Musica Nova Festival, Brisbane; Summer Music, Moomba and Spoleto Festivals in Melbourne and the Townsville Pacific Festival. There have also been performances in England, Germany, New Zealand, Canada, Russia, Sweden, Spain and China.
He has had performances by all of the major orchestras in Australia - the Melbourne, Sydney, Adelaide, Queensland, Tasmanian and West Australian Symphony Orchestras, the Australian Youth Orchestra - and by the Sendai Philharmonic Orchestra in Japan, the BBC Symphony Orchestra, the Bavarian Radio Orchestra in Munich, the Pacific Ocean Orchestra and the Krasnoyarsk Orchestra in Russia, the Philharmonic Orchestra of Moldova, the Ulster Orchestra, and the Tampere Philharmonic Orchestra in Finland.
Brenton has also written several major brass band works; he was commissioned to write Winds of Change, which was premiered at the 2000 European Brass Band Championships in Birmingham by the Yorkshire Building Society Brass Band, conducted by David King, and broadcast, on BBC Radio. This work was the A Grade Test Piece at the 2002 Australian Brass Band Championships held in Geelong. Brenton's 30 minute work Gates of Day was premiered as the final work in the 2001 Melbourne International Festival of the Arts. Scored for 100 brass players (4 brass bands), military band and 400 bellringers playing 2001 bells it was played at the outdoor Sidney Myer Music Bowl to an audience of several thousand.
In 1988-89 he was the Melbourne Symphony Orchestra's Inaugural Composer In Residence and compiled and edited the book Sound Ideas (with Linda Kouvaras) that documented 97 Australian composers. In 1997 he received the Jean Bogan Prize for his solo piano work Dying of the Light and in 1998 he received the Michelle Morrow Memorial Award for Composition and an Explorations Opera Project grant. In 1998 he spent three months in Italy on fellowships awarded by the Civitella Ranieri Foundation and a Bellagio Study Center Award from the Rockefeller Foundation. In November 2005 he returned to Italy as a fellow at the Ligurian Study Center in Bogliasco, Italy.
In 1999 he received the prestigious Don Banks Award from the Australia Council, for his contribution to Australian Music, which enabled him to compose for most of that year, including visits to the USA (Visiting Professor of Composition at Indiana University), England and Russia. His five symphonies were recorded by the Krasnoyarsk Symphony Orchestra (Russia) conducted by Andrew Wheeler and released on the Etcetera label in 2000 and received excellent reviews in England and Australia.
In 2004 his solo piano work Torre di Forza was the test piece at the Sydney International Piano Competition, and in 2005 ABC Classics released a CD of orchestral works performed by the Tasmanian Symphony Orchestra conducted by Ola Rudner. His chamber opera based on Ray Bradbury's Fahrenheit 451 was performed in Bonn, Germany in April 2006. Over 45 compositions are now available on 25 commercial CDs worldwide.
Brenton has been a member of many boards, committees and competition panels, including The Australia Council, the Australian Music Centre, Symphony Australia's Reading Panel, the Paul Lowin Prize, The Maggs Prize, APRA Classical Music Advisory Committee, The Victorian College of the Arts Committee, Australian National Academy of Music, Australian Composers' Orchestral Forum, National Music Camp, Chamber Made Opera et al, and adjudicator at several national music competitions and eisteddfods. In 1995 the Australian Music Centre published his book on 95 Australian composers, Sound Ideas.
Brenton had written 5 symphonies, concertos for tuba, piano and saxophone, several orchestral works, a chamber opera, 4 string quartets and much chamber, choral and solo music.
From 1982-2006 he was employed in the Faculty of Music, University of Melbourne where he was Professor of Music and Head of Composition. In 2007 he was appointed as a Vice Chancellor's Fellow at the University of Melbourne.