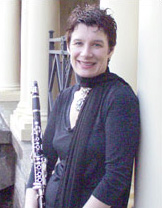 Brigid is a composer, clarinet soloist, visual artist, and educator. She has performed extensively in solo and chamber recitals, both nationally and internationally. Most recently at the 2003 Asian Music Festival, Cybersonica Festival -The ICA London, MAXIS 2002 Festival England, Pulse Field Sound-Art Gallery performance at Atlanta USA. Seoul International Computer Music Festival 2001 and 2002, and Medi@terra Festival micromuseum International Digital Audio & Video Festival, Bulgaria, Slovenia and Frankfurt. Also solo and chamber performances at local Melbourne venues and International Festivals.
Highlights of previous years include Sonic Residues2 Festival, "Quick Flicks" program Florida USA, PATO Adelaide funded by the Australia Council Performing Arts Board, BEAT International Gamelan Festival, Experimenta, Victorian Arts Centre Live and Melbourne International Festivals.
Brigid has also received twelve art awards and exhibited through out Japan in the Japanese International Hand Printed & Shhin Kohanga competition. She recently returned from Japan after performing her composition Lands Collide for clarinet, percussion and electronics in the Asian Music Festival, also attending the Shhin Kohanga printmaking studio and exhibiting her artwork in the Tokyo Exhibition Centre in 2003 funded by the Australian Network of Art and Technology (ANAT).
As a freelance performer/composer Brigid is broadcast on ABC FM including local & overseas radio. During 2003 she completed a commission from the Australian Broadcasting Commission Listening Room which was broadcast in Febuary 2003. She presented a concert of her works on Sunday Live in Iwaki Auditorium, ABC Southbank Centre, Melbourne with her ensemble TRI DUO PLUS in May 2003. She is currentlyworking on another commission with from the Australian Broadcasting Commission Listening Room with her ensemble ELECTRIO to be broadcast in 2004. Her most recent CD recordings are INTERSECT, TRI DUO, BURKE & WILMOT and Electronic Compositions 1997-2001 have been which have been reviewed and broadcast internationally.
The Performing Arts Board of the Australia Council, Japanese Printing Corporation, ANAT, South Australian Govt., Community Arts Centers and Universities have also supported Brigid in her performances, compositions and artwork. She has a Master of Music in Composition from Melbourne University and is currently lecturing Composition and Clarinet at Victoria University.