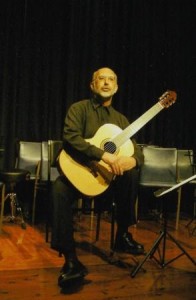 Richard is widely recognised as one of Australia's leading guitarist/composers. Born in the UK in 1955 he has lived in Australia since his parents emigrated in 1962. Largely self taught he initially started writing music to expand his own repertoire, but now his works have been performed and recorded by many leading Australian and international players and feature on more than 25 CDs.
Richard's music combines a love of melody with a keen sense of harmonic & formal structure - music "to entice ear as well as the intellect" (Fred Blanks - Northern Herald).
In 2004 Richard was awarded "Instrumental Work of the Year" at the APRA/AMC Classical Music Awards for his quartet "Stoneworks" commissioned by Saffire. In March 2005 the UK magazine Classical Guitar, described him as, "producing some of the most inspired and accessible guitar works of the present era."
In 2001 one of his works was featured on an ABC-TV documentary about the "Terrace Proms" in Perth. Richard has also had works premiered at many major festivals worldwide, including the Adelaide Festival, the Radio France International Guitar Week in Paris, the Sonorities Festival in Belfast and at Australia House and Bolivar Hall in London. In 2004 part of his concerto, "Rhapsody" for guitar duo & guitar orchestra, was included a live radio broadcast from the Concertgebouw in Amsterdam.
Mr. Charlton has been a featured composer at the Darwin International Guitar Festival and was invited, three times, to be part of the adjudication panel for the Darwin Competition. He was also on the adjudication panel for the 1st and 3rd Australian Guitar Competitions in Newcastle.
In 2001 he toured to Argentina, England & Italy with the Sydney Guitar Trio promoting an all-Australian programme, including two of his own pieces. While in the UK Richard presented a lecture on "composition" at the Guildhall School of Music & Drama and (with other members of the trio) gave a "chamber music" masterclass at the Royal College of Music. In 2005 Richard also gave a masterclass and recital at St. Paul's Girls School in Hammersmith, London.
Many of Richard's pieces for students are currently in the AMEB Syllabus, including pieces in the new Series 8 "Violin" Syllabus. He has also contributed pieces to the student series "Modern Times" published by Chanterelle and to the "Ben Verdery Guitar Series" published by Frederick Harris Music in Canada.
As Director of Music Performance at Ascham School, Richard has been involved with the creation of many new works for student orchestras & vocal ensembles. In 2005 Mr. Charlton conducted the school's Symphony Orchestra on a tour to central Europe performing two of his own works especially written for the occasion.
As a conductor and educator he has worked with all kinds of groups from kindergarten to mature ages and has conducted a wide variety of orchestras ranging from 80 piece student guitar ensembles to school choirs and full symphony orchestras such as the St. Istvan Music School Orchestra (Budapest) and the SBS Youth Orchestra (Sydney).
Highly sought after as teacher, composer and pedagogue, Richard has worked with children all over the world, conducting workshops at schools as diverse as Perth Modern (WA), Northlands High School (Buenos Aires), The Centre for Youth Music (Darwin NT), St. Paul's' Girls School (London), Associazione Musicale di Varese (Italy) and the Instituto Universitario Nacional del Arte (Buenos Aires, Argentina).