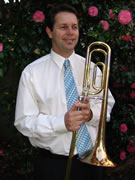 Brendan Collins recently concluded his one–year residency with the Sydney Youth Orchestra, where he composed three works for string orchestra. He also holds the permanent position of Composer–in–Residence at Barker College and prior to this, was the Associate Principal Trombonist with Opera Australia from 1991–2002.
He has always had a fascination with composition, writing instrumental and vocal works from as early as he can remember. His formal training mostly occurred while a student at the Sydney Conservatorium, where he found the teaching of George Golla invaluable. At the same time, Collins studied trombone with Ron Prussing (artistic director SYO).
Collins's compositions have been recorded on two CDs (ABC Music) and performed by the Willoughby Symphony Orchestra, Opera Australia Brass, Canberra School of Music Brass Ensemble and the Wollongong Youth Orchestra.
Warner Chappell Music has published four books of Collins's educational compositions and he has performed these works at Victoria Hall, Singapore; the Melbourne International Brass Festival; and the Gympie Country Music Festival.
He has also performed on ABC TV, Foxtel, the Sally Loane Radio Program 2BL, Allan Jones Breakfast Program 2GB and many regional ABC radio stations throughout Australia.
As a performer Collins has toured the USA and New Zealand as a soloist. He toured Europe in 1984 with the Australian Youth Orchestra and has performed with the Seymour Group, Royal Ballet, Warren Daly Big Band and the 'Cats' Production Orchestra, Sydney. In 1982 while still a school student, he performed the Rimsky–Korsakov Trombone Concerto with the Sydney Symphony.
In 2006 the NSW School Band Festival named a section in his honour and featured him in its annual Composer Profile.