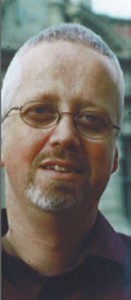 Tim Dargaville is a composer, pianist, percussionist, and teacher who has emerged as a distinctive voice in recent Australian contemporary music. Central to his work as both artist and educator is a strong belief in authentic musical expression – focusing on the importance of the creative act and a deep engagement with the diversity of musical style and experience. Using an eclectic range of style and media, Dargaville's compositions include work for the concert platform, theatre and dance.
Tim Dargaville's development as a musician includes composition studies with Richard Meale and Keith Humble, percussion studies with Master Drummer Kobla Ladzekpo and Sri TAS Mani, and piano studies with Michael Kieran Harvey. He has been awarded two Asialink Performing Artists Residencies to study traditional drumming, dance and theatre practice (India 1996, 2006/7) as well as give performances and lectures on contemporary Australian music. He is also in demand as a music educator, having held teaching positions in both tertiary and secondary teaching institutions in Melbourne.
Tim Dargaville's music has received international recognition with performances at the 1994 Warsaw Autumn Festival (Poland), the 4th East-West Music and Dance Encounter (India 1996), the 1997 Wigmore Hall Masters Series (London, UK), and in 2000 at the Rotterdam Bach Festival (the Netherlands). In Australia his music has been broadcast on ABC national radio and television, featured in the Melbourne and Sydney International Festivals, awarded the prestigious Jean Bogan prize for composition (1999), and been nominated for the APRA/AMC Sounds Australian Awards (2000) for best new work.
As a composer/performer for theatre Dargaville has collaborated with, amongst others, Adishakti (India), Melbourne Theatre Company, Sydney Theatre Company, Kickhouse Theatre, Desoxy and Hungry Ghost, receiving two Green Room Award nominations (2002 and 2003) for best sound design. In 2001 Tim was awarded an Ian Potter Music Commission to compose Rubia – concerto for piano and orchestra for Bernadette Balkus and the Academy of Melbourne, and he has been the recipient of funding from peak bodies including the Australia Council, The Ian Potter Foundation and Arts Victoria.
Other recent collaborations have occurred with Henri Bok of the internationally renowned Dutch group Duo Contemporain (Kolam for 4 bass clarinets), The Sonic Art Ensemble (Invisible Dances for ensemble), The Australian Virtuosi (Negra IV for 2 pianos and 2 percussionists), Michael Kieran Harvey (Alba andNegra I for solo piano) and the ASTRA Chamber Music Society (Rose Canticle for choir and ensemble). Publishers include Red House Editions, The Keys Press, and La Trobe University Press, and recordings have been released on ABC Classics, Move Records, and The Divine Art (UK) labels.