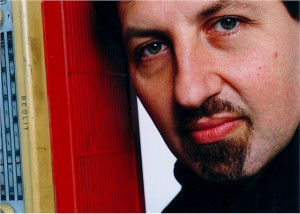 Robert Davidson studied composition with Terry Riley in California and New York, and completed a PhD in composition at the University of Queensland. He previously studied South Indian vocal music in Kerala, India. He was a bassist in the Australian Opera, Sydney Symphony, and Queensland Symphony orchestras before working as a freelance computer programmer. His postclassical quintet Topology has played at numerous festivals around the world since forming in 1996 - their performances range from supporting pop group Savage Garden to experimental theatre. Topology worked with Geoffrey Rush in the opening production of the Optus Playhouse and again in the 2000 Olympics Arts Festival.
Davidson's compositions are regularly performed, recorded and broadcast around the world. All of Australia's professional orchestras and many leading soloists and ensembles have commissioned and performed his works.
Robert is currently undertaking research into links between language and music. He has composed many works around this theme, including voice portraits using recordings of figures including Ghandi, Churchill, Clinton, Whitlam, JFK, Amelia Earhardt and many others.
Robert is the Lecturer in Composition at the University of Queensland.