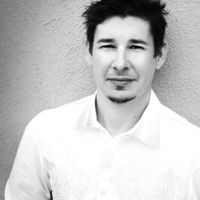 Ever since he was given a cassette of Australia's Daly-Wilson Big Band at age 12, Tim Davies had the dream to write for and play drums in his own big band.  That goal was realized in 1998 when he formed his first big band in Melbourne, Australia.  Although it only had a short run before Davies moved to the States the band made quite an impact.  Since 2000 Davies has led a big band in Los Angeles featuring top session and touring players.  The band's first record, Epic, was released in 2003 and a new album, Dialmentia, came out in May 2009.   Grounded in the traditional, his music adds elements of rock, metal and hip hop, creating a blend that is truly unique.  Davies' big band music is now played all over the world.
When not writing for or leading the band, Davies has found his niche working as an arranger, orchestrater and conductor in Hollywood.  His first break came after a lesson with band leader and arranger John Clayton.  Clayton invited Davies to assist him for his 3 years as the Director of Jazz at the Hollywood Bowl.  In his time with Clayton Davies did orchestrations and transcriptions for the who's who of the jazz world.   Artists included Jimmy Smith, Dave Brubeck, Nancy Wilson, Ray Brown, Oscar Peterson and Take 6.  He also did transcriptions and arrangements for tributes to Johnny Mandel, Neal Hefti and Quincy Jones and worked on albums for Natalie Cole, Diana Krall and Michael Buble.  In the years since, Davies has gone on to arrange and orchestrate for many albums and live concerts featuring  Joan Osborn, Rachel York, Jim Bianco, Colin Hay, Tunde Baiyewu (Lighthouse Family), Jamie Cullum, Queen Latifah, Sarah Bareilles, Salaam Remi and Cee-lo Green (Gnarls Barkley).
In addition to his jazz work, a large part of his time is spent orchestrating music for Film and Television.  Known for his string writing, he is often commissioned to write textural/ambient music for which he has coined the term Symphonic Sound Design.  Examples of this can be heard in the scores to Resistance 2 (VG), InFamous (VG), When a Stranger Calls (film) and Prototype (VG).  Recent orchestration highlights include the TV shows Invasion, Pushing Daisies and Glee,  The Simpson's Movie and Game, The films The Pathfinder, Death Race, Australia and Repo Mambo.  Davies skills are also in demand in the relatively new world of orchestral scores for video games. Credits include SOCOM 3, SOCOM CA, Monsters Vs Aliens, God of War 2, Haze, Beowulf, Prototype, Dark Void, GI Joe and Lost Planet 2.  Davies has also contributed arrangements for the touring productions Video Games Live and Play!.
Recently Davies has become in demand as a conductor. He has conducted most of the above mentioned film, TV and game projects along with many other sessions including projects for Steve Jablonsky (The Sims 3 and Gears of War 2), Tim Wynn (Red Alert 3), Stephen Trask (Cirque du Freak) and albums for  Latin superstar Luis Miguel, Sara Bareilles, David Archuleta and Emmy Rossum.
Davies has also written much concert music and is a represented composer of the Australian Music Centre.  His most performed works are for percussion, notably This is Not a Sonata and The Art of Turning Ice to Water (it is about trying too hard when you make margaritas.)