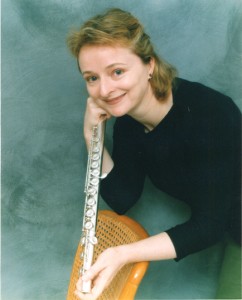 Christine Draeger is a leading freelance flautist in Sydney.
She studied at the Tasmanian Conservatorium and then with Zdenek Bruderhans at Adelaide University, graduating in 1979 with a Bachelor of Music (Honors).
She was a member of the Sydney Symphony Orchestra 1981-86, and has also worked with the Adelaide Symphony Orchestra, the Australian Opera and Ballet Orchestra and Tasmanian Symphony Orchestra. She has appeared as guest artist with many chamber ensembles such as Synergy, Perehelion and The Song Company.
A specialist in contemporary techniques, Christine has been a member of Australia's leading contemporary music ensemble, Sonic Art Ensemble (formerly The Seymour Group), since 1982.
She has recorded a CD with pianist Kathryn Lambert of Australian music. The CD is called Streeton's Noon and includes works by Butterley,Carlson, Holley, Howlett, Kay and Schultz.
As a composer Christine has written works for solo flute, flute and piano, flute quartet and theatre pieces. In 1999 she won first prize in the Australian Flute Composition Competition for her solo piece Melusina's Dream. That piece was chosen as one of the set works for the solo competition in the 2006 Sydney Flute Festival.
She has written a flute tutor, Practical Studies for the Advanced Flautist, with Rosamund Plummer.
In 1992 she founded Tucana Flute Quartet, an ensemble dedicated to creating new works for flutes. Tucana has performed at flute conventions in Chicago 1997, Brisbane 1999, Melbourne 2002 and the Sydney Flute Festival 2006.
As well as performing and composing Christine teaches flute and runs chamber music classes for adult flute players in her teaching studio in Sydney's CBD.