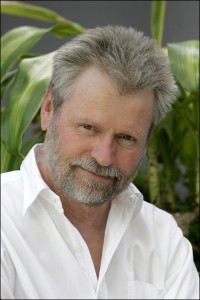 One of Australia's best known composers, Ross Edwards has created a unique sound world which seeks to reconnect music with elemental forces and restore such qualities as ritual, spontaneity and the impulse to dance. Intensely aware of his vocation as a composer, he has largely followed his own path, allowing the music to speak for itself. Among many awards, two Keating Fellowships in the 1990s were crucial to his development.
Edwards considers it his responsibility to make the most effective use of one of the planet's most powerful forces to communicate vividly and widely at the highest possible artistic level. His music, which is concerned with the age-old mysteries confronting humanity, is at the same time deeply connected to its roots in Australia, whose cultural diversity it celebrates, and from whose natural environment it draws many of its shapes and patterns, notably birdsong and the mysterious drones of summer insects. Edwards' belief in the healing power of music is reflected in a body of contemplative works inspired by sounds of the Australian landscape.
Ross Edwards' compositions, which are performed worldwide include five symphonies, concertos, chamber and vocal music, children's music, film scores, opera and music for dance. Works designed for the concert hall sometimes require special lighting, movement, costume and visual accompaniment – notable examples are his Fourth Symphony, 'Star Chant' and his Oboe Concerto 'Bird Spirit Dreaming'. Based in Sydney he is married with two grown-up children and spends as much time as possible working in his studio in the Blue Mountains. Recent works include a Clarinet Concerto for David Thomas and the Melbourne Symphony, and 'Tucson Mantras', commissioned by the Tucson Winter Chamber Music Festival where it was premiered in March 2008 to great acclaim. A new ballet score for U.S. choreographer Nicolo Fonte and the Australian Ballet will be premiered in Melbourne in August. He is currently working on a string quartet for Musica Viva which the Goldner Quartet will premiere and tour internationally.