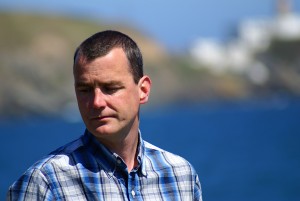 Irish composer Ciarán Farrell was born in Dublin and graduated from Trinity College in 1997. He was brought up in a music loving household though years spent first at the piano and then later the clarinet never really inspired Ciarán as he grew up. The onset of his teen years changed his view on what music was all about when he first heard the pulsating sounds of rock bands like AC/DC, Rainbow, Black Sabbath and Van Halen. Like many teenagers his age he wanted a guitar, an electric guitar! His first came from earnings made from washing dishes in a nearby hotel at the age of 15. The following years were spent learning riffs and solos from records, working to buy new equipment and to pay for rehearsalspaces for the many different bands he played with in the years that followed.
It was his love of the late Randy Rhodes' guitar playing and his then growing love of jazz (and re-kindled interest in classical music) that prompted him at the age of 22 to take things to the next level, a formal study of music. He took up classical guitar with Irish guitarist John Feeley and partook in the IMRO composition summer school before completing his degree at Trinity College where he majored in composition. On graduating he was dubbed by then head of department, Hormoz Farhat, as being, '...one of the most promising composition students I have had in a teaching career spanning some thirty five years.' He also took classes with renowned film composer Ennio Morricone at the Accademia Musicale Chigiana in Siena, Italy.
He has received commissions from the BBC, RTÉ lyric fm, RTÉ Performing Groups, Craig Ogden, The Smith Quartet, Gerard McChrystal, John Feeley, Feeley/Dowdall duo, Katie McMahon, Concorde, Cois Ceim, Irish Modern Dance Theatre and Codetta amongst others.
Ciarán has also worked on numerous TV/Film productions including the internationally broadcast series Divine Magic and Eyes on the World. Andre Singer (MD of Cafe Productions) wrote of Ciarán on the completion of Divine Magic, '...a hugely ambitious undertaking which composer Ciarán Farrell took into his stride. I look forward to working with him again, although I suspect he will be in too great demand in the future.' Other production companies worked with include C4, Discovery, RTÉ, TG4, Littlebird and Non-Fiction Films. In addition he has written music for numerous commercials including the highly successful Heineken and Shell campaigns.
He currently lives and works on the picturesque peninsula of Howth, just north of Dublin city, where he derives much inspiration from its' great natural beauty and peaceful surroundings.