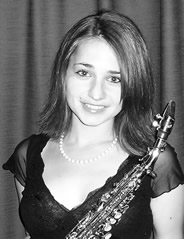 Charlotte Harding (b.1989) recently graduated from the Royal College of Music, London with a first class honours degree studying composition with Mark-Anthony Turnage, and saxophone with Martin Robertson. On graduating Charlotte won the Cobbett and Hurleston prize for Composition as well as the prestigious Queen Elizabeth, The Queen Mother Rosebowl which will be presented to her by HRH Prince Charles in May 2012.
Charlotte's premieres at the Royal College included works for the RCM Wind, Percussion and Saxophone ensembles. 'What Once Was', her piece for the latter was subsequently performed by the Northwestern Saxophone Ensemble in Chicago. Charlotte won the RCM Concerto Competition with her orchestral work, 'Fuse', which was premiered by the RCM Sinfonietta in June. Charlotte was also selected by the college to write a piece for their 'Rising Stars' series.  Her chamber work 'Ion' was subsequently premiered at Cadogan Hall. Other premieres included 'Phono' for solo trombone, piano and rhythm section written for RCM trombonist Ross Anderson and 'Fluro' (written for five percussion set ups, soprano sax, trumpet and bass guitar), which was premiered in the percussion department's showcase concert in June. Other recent premieres and works include; 'Elegy', for the saxophone based chamber group, 'Flotilla' at St Martin-in-the-Fields, and 'neon – concerto for flute and string orchestra' written for BBC Young Musician of the year finalist, Rocco Smith. Charlotte's soprano saxophone concerto, 'Voyage', written in 2007, was recently published by Reed Music and launched at the British Saxophone Congress. It has been performed across the UK as well as performances in Australia, Germany and France.
As a saxophonist, Charlotte plays in various ensembles including The Borialis Ensemble performed Walton's, 'Facade', at the Elgar Room in the Royal Abert Hall in May, and Cantalopue Trio who play a mixture of jazz and latin and have performed at venues across London including St. James Piccadilly, Kensington Roof Gardens and The Connaught Rooms. She has recently been asked to perform at the World Saxophone Congress which is taking place in St. Andrews, Scotland July 2012.
Charlotte premiered her composition 'In Dust' at the Pegler Yorkshire Factory as part of the 'Pipe Dreams' concert organised by RCM percussionist Rebecca McCrystal.  The piece was subsequently featured at one of the concerts as part of the RCM's 'Great Exhibitionists' series May 2011. In 2006 she won the 'Outstanding Soloist' award at the National Concert Band Festivals in Glasgow. Charlotte also performs with and writes for her jazz/folk/pop band, 'Isla', with sisters Emily and Eleanor. They have performed on BBC radio/television and across the country at festivals, and venues such as The Cavern in Liverpool. Interview by the late John Peel when aged just 4,6, and 8, he described them as, 'enchanting'.