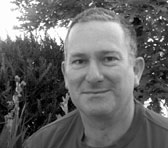 Gordon Kerry has composed orchestral music for the ABC, BBC, Symphony Australia, Ars Musica Australis and the Australian Youth Orchestra; chamber music for Musica Viva Australia, as well as independent ensembles in Australia, Britain, Germany, the USA, Sweden and Russia; choral works for Gondwana Voices, Sydney Philharmonia, the Choir of Ormond College, the Prague Chamber Choir and the Royal Melbourne Philharmonic.
Medea, his opera to Justin Macdonnell's libretto, has been performed in Australia and the USA by Chamber Made Opera and in Germany by the Berliner Kammeroper and is now available on ABC Classics. More recent works include a completion of Mozart's Requiem for ABC Classic FM, (premiered at the Bangalow festival in 2006 and performed by the Sydney Chamber Choir under Richard Gill in March 2008); string quartets for ensembles in Australia (Sartory String Quartet), the UK (Doric String Quartet) and the Netherlands (Utrecht String Quartet) and Clouds and Trumpets for the Melbourne Symphony Orchestra's 100 th anniversary.
He is also involved with musicians in his local community (north–eastern Victoria and the NSW Riverina) composing new works for Opera in the Alps, the Murray Conservatorium Choir and Orchestra and the Riverina Summer School for Strings. He is currently working on the opera Ingkata with a number of Aboriginal and non–indigenous artists, extracts from which were staged at the Adelaide Festival on 2008. In 2008 he is also composer in residence at the Australian National Academy of Music in Melbourne. He is writing a book on contemporary Australian art music for University of New South Wales Press.
Gordon Kerry studied composition with Barry Conyngham and has held fellowships from the Australia Council, Peggy Glanville–Hicks Trust and the Virginia Center for the Creative Arts. He is an experienced arts administrator and critic, having written for the Sydney Morning Herald, The Australian, the Australian Financial Review and a number of magazines. He lives on a hill in north–eastern Victoria.