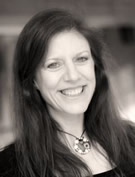 Linda Kouvaras is a Melbourne composer, musicologist, and pianist. She holds a continuing Senior Lectureship in Music at the Melbourne Conservatorium of Music, the University of Melbourne.
After several years playing in rock & New Wave/Punk bands and for theatre productions, Linda studied piano in the UK in 1984, returning to complete her studies under Ronald Farren-Price and Max Cooke, culminating in an Honours Degree in Piano (1988) and a Masters Degree in Piano (1991). Her research work was supervised by Malcolm Gillies, Brenton Broadstock, Naomi Cumming and historian David Goodman and led to her PhD in Musicology in 1996.
Recordings of her works and piano performances appear with Move Records, with the ABC and on independent release, and they receive frequent radio broadcasts. At its release, her solo CD, Kouvaras: PianoWorks (Move Records: MD 3233, 2000) (funded by an Ian Potter Foundation Grant), was "CD of the week" on ABC Classic FM. Linda has enjoyed four Artist-in-Residence stays at the Arthur and Yvonne Boyd Estate, Bundanon, NSW (1999, 2000, 2001 & 2010). She has full composer representation at the Australian Music Centre and publishes with Reed Music.
Festival performances of her works include National Composing Women's Festivals and International Women's Day, The Melbourne Fringe Festival, twice for Musica Intima series, twice at the Port Fairy Festival, The Fourth Festival of Choirs, the Greek Artistic Forum of Composers, Perth New Music Week and Dance Massive Melbourne: Music for Imagined Dances. Deviani Segal and Linda Thompson commissioned her to write "Distant Lullaby" for their CD of Australian lullabies, Repose, while Ian Holtham has recorded "Secrets of the Amphitheatre" on Giants in the Land. Other recent commissions include an Arts Victoria Grant to write for the Young Voices of Melbourne, one for the Australian Contemporary Chorale (dir. & Conductor, Hildy Essex) and a Fanfare for Brass and Percussion at the invitation of the new Director of the Melbourne Conservatorium of Music, Professor Gary McPherson, to celebrate the amalgamation of the former University Faculty of Music (Parkville) and the former VCA School of Music (Southbank).
She is nationally recognised as an expert in her field, with requests made to her to contribute over the past 16 years in a substantial way to important discourse on current compositional trends in Australia. She was co-Chief Investigator on an Australian Research Council Discovery Project Grant – the largest for all then-current three-year DPs and Linkage Projects in music-related research – to research issues of postmodernism in contemporary Australian art-music (2005-08). She has adjudicated for Australia's most prestigious awards, the AMC/APRA Awards, National and State, for contemporary Australian art-music, since 1999. A member for the Symphony Australia National Score Reading Panel from 1999–2001, she was advisor on commissioning / performance of contemporary Australian orchestral works. She has twice been co-opted to the panel for Arts Victoria Creation Grants and is an adjudicator for the University's prestigious Maggs Award for Composition. She is a founding Board member for Associate Professor Stephen McIntyre's prestigious Music Landmarks (since 2002), which holds annual recitals in inner-city Melbourne.
Linda Kouvaras is a (part-time) Lecturer in Piano at the Australian Catholic University, resident Senior Tutor in Music at Ormond College, The University of Melbourne, examines in piano for the Australian Music Examinations Board and maintains a robust piano and composition teaching studio.