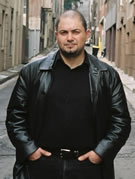 Raffaele Marcellino (b. 1964) is a composer whose music has been performed by many of the leading Australian ensembles ranging from OzOpera, The Song Company, The Seymour Group, Synergy, Sydney Alpha Ensemble, Continuum Saxophone Quartet and all the major Symphony Orchestras.
Marcellino has also established an international profile with performances by Ensemble Modern (2000 Music World Music Days in Luxembourg), Nouvel Ensemble Moderne (Canada), the Sydney Front (Europe and South East Asia) and Tom O'Kelly (Japan).
Recent premieres include L'arte di volare performed by the Tasmania Symphony Orchestra; The Art of Perception performed by the Australia Ensemble at the International Music and Psychology Conference, Sydney; The Flight of Les Darcy, an opera premiered in 2001 at the 10 Days on the Island Festival, Hobart Tasmania; The Art of Memory performed by Marina Phillips and the Australian Brandenburg Orchestra at the City Recital Hall, Sydney; The Pluperfect Square Dances performed by Tom O'Kelly in Kunazawa, Japan.
In October 2004 his opera Midnite was premiered at the Melbourne International Festival of the Arts by OzOpera, with libretto by Doug MacLeod and conducted by Richard Gill.
In 2005 Marcellino was appointed Dean of the Australian Institute of Music, Sydney. Over the course of 2005-2006 Marcellino oversaw the reaccreditation and re-registration of the Institute and the expansion of its programs including significant strategic partnerships with Sydney Opera House, Sydney Youth Orchestras and Apple Computers. In 2009 Marcellino departed AIM to commence work on a private higher education and creative consultancy.
Marcellino says of his music: 'My music contains a tilt towards Europe, values idiosyncrasy over ideology and wit rather than obscurity'.