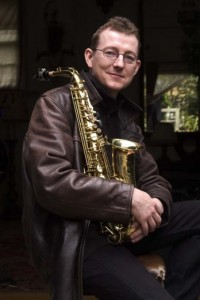 Gerard McChrystal comes from Derry, N.Ireland. He took up the saxophone in 1982 and by 1989 had already performed concertos with The Philharmonia, London, RTE Concert Orchestra, Dublin and the RNCM Wind Orchestra, Manchester. Gerard studied at the RNCM, Manchester, Guildhall School of Music & Drama, London and Northwestern University, Chicago.
In 1987 he became the first person ever to graduate from the RNCM with three awards and followed this with a diploma from the GSMD, London and an MA from Northwestern University, Chicago. Competition successes followed in The Royal Overseas League (Wind Prize), Lombard and Ulster Music Foundation (winner), RTE Musician of the Future(finalist in 1985 & 1987), Countess of Munster, NFMS Award, Park Lane Group, Ivan Sutton Award, Sir James Caird Travelling Fund, Martin Music Trust and he even won on the clappometer on Opportunity Knocks! in 1987.
Gerard has performed in over twenty countries including South Africa, USA, Korea, New Zealand, India, Azerbaijan, Indonesia, Caribbean, Germany, Sweden as well as throughout the UK and Ireland. Venues have included San Francisco Opera House, USA, Victoria Concert Hall, Singapore, Jakarta Opera House, Indonesia, Baku Opera House, Azerbaijan, The Stattshalle, Stuttgart, The Rossini Theatre, Italy, The Royal Albert Hall, London, Wigmore Hall, London, St. David's Hall, Cardiff, The Queen's Hall, Edinburgh, The National Concert Hall, Dublin and The Ulster Hall, Belfast. In 1992 Gerard completed a world tour with the quartet, Saxtet, starting in Bombay and ending in Hawaii.
Gerard has premiered pieces by or worked with, Sir Harrison Birtwhistle, Sir Malcolm Arnold, John Taverner, James MacMillan, Dave Heath, Michael Kamen, David Bedford, John Metcalf, Gary Carpenter, Michael McGlynn and Tommy Smith. In 1999 Gerard premiered and broadcast a BBC commissioned concerto by Belfast born composer, Ian Wilson called Who's Afraid of Red, Yellow and Blue.
Gerard has recorded the Debussy Rhapsody for Chandos Records conducted by Yan Pascal Tortelier, a concerto album with London Musici called Meeting Point, Shaun Davey's A Relief of Derry Symphony with the Ulster Orchestra and in 2000 released an album of specially written Romances and Toccatas by Billy Cowie. His recording of Eric Sweeney'sDuo featured on an album called Imagine Another Ireland with Sinead O'Connor, Brian Kennedy and Anuna.
Orchestras and artists Gerard has worked with include, The Orchestra of San Francisco Ballet, The Stattsorchestra, Stuttgart, BBC Scottish Symphony Orchestra, BBC Concert Orchestra, City of London Sinfonia, National Symphony Orchestra of Ireland, Seoul Wind Orchestra, Korea, The Soweto String Quartet, Johannesburg, tenorist Tommy Smith, vocal group Anuna, percussion group Ensemble Bash and pianist Joanna McGregor.
Gerard has written and presented for RTE's Lyric FM and reviews saxophone music for Music Teacher magazine. He runs annual courses for Dartington International Summer School, Aberystwyth Musicfest, The National Youth Wind Orchestra and Music at Little Benslow. In 1998 Gerard was appointed Professor of Saxophone at Trinity College of Music, London and tutor at The Royal Welsh College of Music & Drama, Cardiff.
Gerard became the first person from UK/Ireland to be invited to give a concerto performance with orchestra at the World Saxophone Congress in Minneapolis, USA in July 2003. Later that month he premiered a new work by Edward Watson with the Karol Syzmanowski String Quartet. In August he toured Ireland as soloist with The National Youth Wind Orchestra of GB. In Sep. 2003 he broadcast Mobiles, a new concerto by John Metcalf with the BBC National Orchestra of Wales. Gerard concluded a hectic summer with an appearance at the BBC Proms in The Park with the Ulster Orchestra performing to an audience of over 7000 people.
In 2006 Gerard was a concerto soloist at the World Saxophone Congress held in Ljubljana,Slovenia. His latest recording pluckblow with Australian guitarist, Craig Ogden was released by Meridian Records, London in September 2006. 2007 sees the release of an album with The Smith Quartet on RTE Lyricfm Records and a concerto CD with The BBC National Orchestra of Wales on Signum Records. He will be appearing on Songs of Praise on BBC1 with Irish Choir Codetta in June 2007.