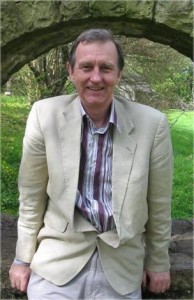 John was born in Swansea, Wales in 1946. A joint UK/Canadian citizen, he is one of the foremost composers working in Wales today. His composing career has already embraced a large variety of work including six operas, two to commission from Welsh National Opera. His fifth opera KAFKA'S CHIMP was premiered to great acclaim in 1996 in Canada, received its European premiere in Sweden in 1999 and US premiere in Pittsburgh in 2004. His latest opera A CHAIR IN LOVE premiered at Taliesin Arts Centre, Swansea in 2005. He is currently working on a seventh opera based on Dylan Thomas' UNDER MILK WOOD.
Since the early 1990's a definitive series of orchestral and chamber works have helped to enhance his reputation nationally and internationally. These include PARADISE HAUNTS, DANCES FROM FORGOTTEN PLACES and MAPPING WALES. In December 1999 a collaboration with artist Catrin Webster on TRANSPORTS was previewed at the Galeria Communale d'Arte Moderna e Contemporanea in Rome. This production, which subsequently included performances of TRANSPORTS/MOBILES and NOT THE STILLNESS, received five performances in New York in October 2001 as part of the UK with NY Festival. A commission from the English Symphony Orchestra led to the writing of CELLO SYMPHONY for Raphael Wallfisch - released by Nimbus records in May 2005. In January 2005 he was featured composer at the Waterford New Music Days in Ireland.
Performances in many countries around the world marked John's 60th birthday year in 2006. These included a special concert in Sofia, the North American premiere of A CHAIR IN LOVE in Montreal, a performance of THREE MOBILES at the World Saxophone congress in Slovenia and a 'composer portrait' concert by Lontano in London. The BBC marked his anniversary year with the commissioning of IN TIME OF DAFFODILS given its world premiere in St. Davids Hall, Cardiff by the BBC National Orchestra of Wales with Jeremy Huw Williams (baritone) and Radio 3's Hear and Now programme broadcast two major works as part of a John Metcalf at 60 celebration. He has recently completed a String Quartet LLWYBRAU CAN (Paths of Song) for the Sacconi Quartet. 2008 highlights included the remounting of A CHAIR IN LOVE for performances at the Buxton Festival and a special project for Artes Mundi in collaboration with the artists of Sans Facon to create a series of 'sonic walks' for the City of Cardiff.
John Metcalf was both an Artistic Director and Associate Artistic Director at the Banff Centre, Canada for a period of nearly ten years and was Artistic Director of the Swansea Festival from 1996 - 2007. He is presently Artistic Director of the award-winning Vale of Glamorgan Festival. He has led creative music projects in more than one hundred schools throughout Wales, reflecting his belief in an active, participatory role for the composer in society.
He is an Associate Composer of the Canadian Music Centre, an Honorary Fellow of the University of Wales, Lampeter, of the Royal Welsh College of Music and Drama and of University College Cardiff. In September 1995 he received the John Edwards Memorial Award awarded by the Guild for the Promotion of Welsh Music for his services to music in Wales. In 1999 his music was played during the signing, by Her Majesty the Queen, of the Act bringing into being Wales' first elected Assembly for 500 years. His music is recorded on the Lorelt, Sain, Cyfoes and Nimbus labels. Signum Classics recently released a disc of orchestral works performed by the BBC National Orchestra of Wales and recorded a follow-up disc of chamber music to be released in the summer of 2010.