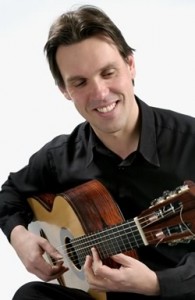 Ken Murray has developed a singular path as a guitarist combining performance, composition, teaching and research.  He has championed and recorded Spanish music from the early twentieth century, worked extensively with contemporary composers and has been active as a performer of Brazilian and South American musical styles.  Composition is increasingly becoming a focus and he has written a variety of works for guitar in solo and ensemble settings. As a teacher he has over twenty years of experience at home and overseas.
He studied guitar with John Griffiths, Susan Ellis and Michael Christoforidis and holds a Master of Music Degree from the University of Melbourne.  After graduation he attended numerous summer schools and performed in lessons and masterclasses with guitarists such as Leo Brouwer (composition and arrangement), Manuel Barrueco, David Russell, Elliot Fisk and Joaquin Clerch.
He has a strong commitment to performing contemporary music and has performed in premiere performances of over 100 works.  An integral part of his activities has been working with Australian composers.  He enjoys ongoing collaborations with composers such as Matthew Hindson, Stuart Greenbaum and Thomas Reiner. Pieces written for him include works for solo guitar, electric guitar and CD, electric guitar and ensemble, guitar and voice, large chamber works and music theatre pieces featuring guitar.  He has performed around Australia and has toured to Portugal, Spain, England and the Netherlands.  During several trips to the Archivo Manuel de Falla in Granada, Spain he studied the music of Manuel de Falla and his contemporaries, culminating in the release of the critically acclaimed CD Homenaje in 2003.  His CDs and concerts have been broadcast on ABC FM and he has performed on the Austrian label Kairos (Italy), Mode Records (USA), Move and ABC Classics.  Current research interests include the evolution of guitar cultures in the late nineteenth and early twentieth centuries and the reception of Spanish Music in London (1878-1921).
Ken performs regularly alongside Australia's foremost exponent of Brazilian music Doug de Vries.  He has performed with many ensembles as a guitarist and mandolinist including: Elision, Libra, re-sound, the Adelaide Symphony Orchestra, the Melbourne Symphony Orchestra and Orchestra Victoria. He has collaborated in duos with musicians such as Jeannie Marsh (voice), Hartley Newnham (voice), Silve Leprohon (flute), Laila Engle (flute) and guitarists: Oscar Flecha (Portugal), Geoffrey Morris and Owen Thomson.  Ken has written a variety of works for guitar in solo and ensemble settings. His works have been commissioned by the Santo Tirso International Guitar Festival and the Suzuki Association of Victoria.
He is Lecturer in Guitar at the Conservatorium of Music, The University of Melbourne and guitar teacher at Xavier College.