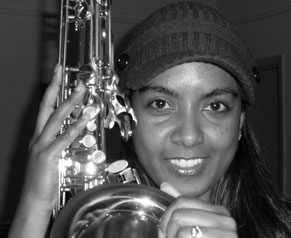 Born in the Seychelles (1979), Tessie moved to Perth, Australia in 1988 and began her musical studies on flute two years later. In 1997 she was accepted into WAAPA (WA Academy of Performing Arts) to study jazz flute. In the following years she completed her Associate Diploma in Performing Arts and a Bachelor of Education (Music). She is currently teaching music at St Leonard's College, Melbourne where she directs the stage band, latin ensemble and saxophone ensembles, and is an accomplished performer on all saxophones and flute.
Having studied Latin American music at WAAPA, Tessie travelled to Cuba in 2006 to hear the music firsthand and learn from the locals. Tessie's compositions are heavily influenced by her love of Cuban music and her jazz background. She has written and/or arranged all of the music performed by the St Leonard's College Latin Ensemble to date and has sold many of her compositions to schools around Australia.
Tessie has performed around Victoria at various venues and events including Bennett's Lane Jazz Club, Hamer Hall and the Wangaratta Jazz Festival. Her secret ambition is to be a member of the Star Wars Cantina Band.