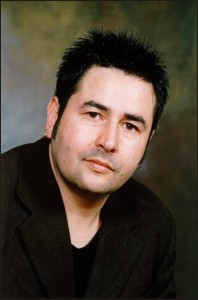 Andrián Pertout was born in Santiago, Chile, 17 October, 1963, and lived in Gorizia, Northern Italy for several years before finally settling in Melbourne, Australia in 1972.  In 2007, he completed a Doctor of Philosophy (PhD) degree at the University of Melbourne on Tweddle Trust, Australian Postgraduate and Melbourne Research scholarships, studying composition under the guidance of Brenton Broadstock.
Composition awards include the Friends & Enemies of New Music Composition Prize (USA), International Music Prize for Excellence in Composition (Greece), UnTwelve Composition Prize (USA), Dorian Le Gallienne Composition Prize, Betty Amsden Award, Louisville Orchestra Prize (USA), Oare String Orchestra Judges' and Audience Prize (UK), Michelle Morrow Memorial Award, and the Zavod Jazz/Classical Fusion Award.  He is currently the Australian Delegate of the ACL (Asian Composers' League), President of the Melbourne Composers' League, as well as Honorary Fellow at the Faculty of Music, University of Melbourne and National Academy of Music (Thessaloniki, Greece).
He has received numerous commissions, including recent works for the Logos Foundation in Ghent, Belgium (for robot orchestra incorporating 37 automats), a new work for tamburica orchestra (commissioned by Julian Burnside QC), violinist Piotr Szewczyk, (USA), saxophonist Noah Getz (USA), and toy pianist Phyllis Chen (USA); as well as other works for The University of Hong Kong Gamelan Orchestra and Australian pianist Michael Kieran Harvey, commissioned by Julian Burnside QC.  In 2006, Pavel Mihelcic and Ensemble MD7 (Slovenia) commissioned Aequilibrium for flute, clarinet, viola, violoncello, trombone, pianoforte and percussion – premiered at the 2006 Ljubljana Festival; and in 2007, the City of Melbourne commissioned Symétrie intégrante for flute, organ and electronics, which was performed by Andrew Blackburn and Jean Penny as part of the 2007 'Melbourne Town Hall Organ Project'.
Andrián's music has received performances at festivals such as the ISCM World Music Days 2005, 2007 and 2010 (Croatia, Hong Kong and Australia), 33e Festival d'Automne á Paris (Paris, France), XIII and XV Festival de Música Contemporánea Chilena (Santiago, Chile), and the 22nd, 26th and 27th ACL Conference & Festival 2002, 2007 and 2009 (Korea and New Zealand).  His music has also been performed in over thirty countries by orchestras and ensembles that include the Melbourne and Tasmanian Symphony Orchestras, Orchestra Victoria, The Louisville Orchestra (USA), The Foundation Orchestra (USA), Orquestra Petrobrás Sinfônica (Brazil), Orquesta de Cámara de Chile (Chile), La Chapelle Musicale de Tournai (Belgium), Oare String Orchestra (UK), Ónix Ensamble (Mexico), Ensamble Contemporáneo (Chile), Quinteto CEAMC (Argentina), Sonemus Ensemble (Bosnia-Herzegovina), Sori Ensemble (Korea), Omni Ensemble (USA), and the Ensemble für Neue Musik Zürich (Switzerland).
Andrián's music has been published by Oregon Literary Review (USA), Reed Music (Melbourne), Rhythmscape Publishing (Brisbane), Society of Composers (USA), and Red House Editions (Melbourne).  His music also appears on 21 compact discs released by Atoll Records (New Zealand), Ensamble Contemporáneo de Santiago (Chile), Concert Artists Guild (USA), Melbourne Composers' League, Australasian Computer Music Association (Melbourne), Capstone Records (USA), Albany Records (USA), Harmonia Classica (Austria), Reed Music (Melbourne), Pueblo Nuevo/Laim/Cech (Chile), Kostas Metaxas Recordings (Melbourne), University of Melbourne, and Agenda Edizioni Musicali (Italy).
As a writer, Pertout has published over 400 articles in music publications, such as Mixdown, Spanish Herald, Australian Musician, and the Sunday Herald Sun. His articles have featured reviews of new musical technology, compact disc and book releases, as well as conducting interviews with prominent national and international artists including Herbie Hancock, Steve Reich, Joe Satriani, Rick Wakeman and José Feliciano.
He is a member of the Australian Music Centre, Fellowship of Australian Composers, Melbourne Composers' League, Australasian Computer Music Association, SCI (Society of Composers Inc., USA), Asociación Nacional de Compositores de Chile, CECh (Comunidad Electroacústica de Chile), New Music North (Canada), and the Just Intonation Network, as well as writer full member of APRA (Australasian Performing Right Association Limited).