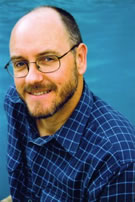 John Peterson (b. 1957) studied composition at the University of Sydney under the guidance of Ross Edwards, Eric Gross and Peter Sculthorpe. As a composer, John Peterson has written chamber music for many leading Australian ensembles including The Contemporary Singers, Sydney Mandolins, The Seymour Group, the Coruscations Ensemble, the Halcyon vocal ensemble, as well as such internationally renowned groups as the Shostakovich String Quartet. His primary compositional focus, however, has been on writing music for the orchestra. John's orchestral works have been performed and recorded by the Armidale Youth Orchestra, Queensland Philharmonic Orchestra, Tasmanian Symphony Orchestra, the West Australian Symphony Orchestra, Sydney Youth Orchestra, Auckland Philharmonia Orchestra, New Zealand Symphony Orchestra, and the BBC National Orchestra of Wales.
In 1992, Peterson was a finalist in the Jean Bogan Prize for Piano Composition; and in 1995, and again in 2000, he was a finalist in the Corbould Orchestral Composition Competition. On two occasions, in 1997 and in 2001, he has been shortlisted for "Masterprize", an international competition run jointly by BBC Music Magazine and the London Symphony Orchestra.
Some of John's recent works have been written for SATB chorus: Shadows and Light (2004), a large-scale composition for SATB symphonic chorus, SATB semi-chorus, soprano and tenor soloists, string orchestra and percussion; and The Earth that Fire Touches (2005), for SATB chorus, soprano soloist, two pianos and five percussionists, were commissioned and performed by Sydney Philharmonia. In October, 2006, the Royal Melbourne Philharmonic performed the premiere of Peterson's most recent work for chorus and orchestra, Mourning and the Light Within (2006).
John's music generally reflects his interest in tonal idioms, as well as the energy and rhythmic propulsion inherent in many popular music styles.
In 2005, John was the winner of the prestigious Albert H. Maggs Composition Award. John Peterson graduated from the University of Sydney with a Doctorate in Composition in 2003, and has been Head of Composition in the School of Music and Music Education at the University of New South Wales, Sydney, since 2004.
updated 21-Nov-2007