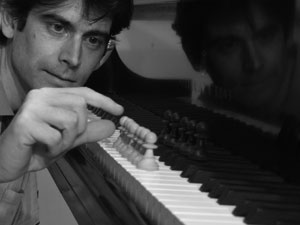 Pianist and composer Adam Pinto currently resides in Perth, Western Australia and tutors for the School of Music at the University of Western Australia. He performs regularly both as a chamber musician and as soloist in venues and Universities throughout Australia.
He has performed as soloist with the Western Australian Symphony Orchestra, the Elandra Ensemble and Ensemble Vertigo in Perth. He has recorded as soloist and in chamber music, for broadcast by the A.B.C.
His keen interest in new music has seen him premiere works by many Australian composers, and perform in New Music Festivals across Australia. He has become a sought after accompanist, working with Australian and international soloists, and as an associate artist at instrumental festivals throughout Australia. He also accompanies advanced performance students at the University of Western Australia.
Adam graduated with first class honours from the University of Western Australia where he studied with Mark Coughlan. He then went on to receive a scholarship at the Australian National Academy of Music, where he studied with visiting artists such as Nicolai Demidenko and John York and travelled to Italy where he performed to other renowned teachers. In Melbourne he also received an Australian Postgraduate Award, studied with Associate Professor Ronald Farren-Price OAM and completed a Master of Music degree at the University of Melbourne.
a stunningly virtuoso reading by Adam Pinto who steered a sure and nimble way through this musical minefield as, at the work's many explosive climaxes, he hurled great chunks of sound into the auditorium.

Neville Cohn - The West Australian.