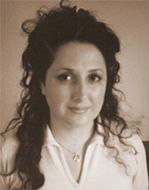 Estelle commenced a Master of Music (composition) in 2001 at The University of Melbourne under the supervision of Moya Henderson and Julian Yu, having completed her Bachelor of Music (hons) with Brenton Broadstock and Stuart Greenbaum in 2000. She is a recipient of an Australian Postgraduate Award (APA).
Her third opera 'Perverse' (a true story about a Jewish girl coming to terms with the fact that her father is gay) was presented as a work-in-progress at the Black Box, Victorian Arts Centre as part of the 2002 Midsumma Arts Festival (Melbourne) and was described by Michael Easton in the Herald Sun as a 'hauntingly beautiful work'.
Estelle's second opera 'orb.IT' (about the impact of globalisation and technology on the youth of today) was commissioned by St Martins Youth Arts Centre (Melbourne) and was performed during the 2000 Melbourne International Festival of the Arts. Fiona Scott Norman of 'The Age' found 'Pizer's choral music enchanting'. 'Kora' (music for ballet) was also premiered, conducted by Benjamin Northey. Again during 2000, Estelle composed the music for the multi award winning short film 'Name Day' - directed by Eleni Arbus. In 1999, Estelle received a commission from the British Music Society which resulted in 'Unveiled: String Quartet No. 1' - premiered by the Tarraj Quartet (Melbourne).
Her solo violoncello piece 'Wish' was selected for inclusion on an upcoming Fellowship of Australian Composers CD and is published by Keys Press (Western Australia). 'Homesick' - a solo flute piece was performed at Old Parliament House (Canberra) for Israeli Independence Day 2000. Estelle completed a Graduate Diploma in Composition (Instrumental & Vocal) at the Faculty of Music (The University of Melbourne) in 1997 where she won the inaugural Opera Composition Competition with her one act opera - 'The Blackened Pearl' (a true story of a difficult love triangle set in Melbourne ten years after the Holocaust).
Other recent commissions include an orchestral work for Nehama Patkin's 'Proms for Preps' performed at the Melbourne Concert Hall in November 2001; the score for David Blumenthal's short film 'Winter Harvest' and incidental music for Chambers Theatre Company 2002 production of 'Hamlet'.