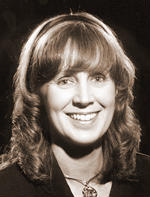 Johanna Selleck is a composer, flautist and writer. She completed a B.Arts (hons) in philosophy and criminology, B.Mus and M.Mus and is currently completing her PhD in composition at the University of Melbourne. She teaches at Melbourne University, the Victorian College of the Arts and Presbyterian Ladies' College and also works at the Centre for Studies in Australian Music and as an AMEB examiner. She has composed a wide range of chamber, orchestral, vocal and electronic works. Her works have been performed by the Queensland, Tasmanian and Melbourne Symphony orchestras. She performed the solo part of her flute concerto Unspoken Dialogues with the Melbourne Symphony in a recording project for Melbourne composers at the Iwaki Auditorium in 2003. She has published articles and reviews in the ABC's Limelight magazine, Flute Australia, the Australian Music Teacher, Sounds Australian, Cambridge Scholars Press and the Australasian Musicolgical Research Journal. She has also worked as a music critic for Melbourne's Herald Sun.
Selleck's compositions have been published by the Centre for Studies in Australian Music, Allans and Reed Music and recorded by Move Records (Ian Holtham's Giants in the Land). Her works have been broadcast on the ABC, 3MBS and 3PBS. Commissions include works for Ensemble Zauberflöte, Melbourne University, the Cairnmillar Institute, Melbourne Youth Music, Astra and the Song Company. Her first opera, The Quickening, received its premiere at the Port Fairy Festival in October 1998. Her piano quartet Looking Back was selected for performance at Maltese Australian Culture Week in Malta in January 2004.
Selleck's compositional style draws upon diverse influences as can be seen in the work most representative of her approach—a song cycle and multi-media piece entitled Becoming for soprano, countertenor, bass, shakuhachi and string quartet (to be premiered at the Castlemaine Festival in April 2007). A theme behind this work which is of particular interest to the composer is the connection between cultures. A strong interest in human rights issues also finds expression in works such as Unspoken Dialogues.
In 1990 Selleck was awarded the Percy Grainger Prize for Composition and in 2006 she was awarded First Prize in the 2006 Albert H. Maggs Composition Award.