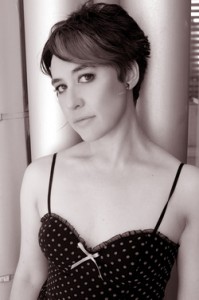 Sally Whitwell's musical journey so far is a rich and varied one.  Pianist, conductor,  composer, arranger, singer (and occasional accordionist), her credits represent a healthy breadth of interest in all things musical.
Sally has recently completed her debut solo CD recording for the ABC Classics label, featuring the solo piano works of Philip Glass. Due for release in May 2011, it's been recorded on a revolutionary new Australian piano manufactured by Stuart and Sons. She has recorded extensively as an ensemble musician and as a soloist, most notably on the ABC Classic 100 Piano playing Michael Nyman's "The Heart Asks Pleasure First" (from the soundtrack to the Jane Campion film "The Piano") and also a recreation of part of Keith Jarrett's legendary improvisation "The Koln Concert". She has accompanied many artists on ABC Classics releases including Teddy Tahu Rhodes, David Hobson, Jane Sheldon and Sally Maer (aka Cello Diva).
For some years now, Sally has been working as conductor and pianist with Gondwana Choirs. She has worked with children of all levels of experience within the organisation, from beginner to advanced, and has performed with them in Europe, Asia, the Americas and throughout Australia. In April 2011, Sally will tour to Canada and the USA with Gondwana Voices.  She has also worked extensively with disadvantaged young people who would otherwise not have the opportunity to be involved in music programs, through the NSW Department of Education and the Australian Children's Music Foundation
Sally's composing career is a recent development in her artistic life, her works being performed by various ensembles including Leichhardt Espresso Chorus, Polyphony and various school ensembles. She has recently enjoyed running choral composition workshops for the NSW Department of Education with boys from schools all over the state. Sally has also arranged much music for choirs including Cantillation, Sydney Gay and Lesbian Choir, Melbourne Gay and Lesbian Chorus, Sydney Pop Choir and Brisbane Birralee Voices.  Currently, Sally is working on a Cabaret/Dance show with Dancer/Singer/Choreographer Connor Dowling.  Entitled "Black Swan Tales", it's a re-imagining of the Tchaikovsky Ballet "Swan Lake".
Sally enjoys working with community musicians. She has directed various ensembles including Sydney Pop Choir and queer choir Door in the Wall, and is currently Musical Director of community chamber choir Polyphony.
For many years, Sally trained as a dancer. She keeps a finger in the pie by working as a dance accompanist, improvising her way through music for ballet. She has played for Sydney Dance Company, The Royal NZ Ballet, The Australian Ballet School, Bangarra Dance Theatre, Opera Australia, WAAPA and New Adventures (Matthew Bourne's company).