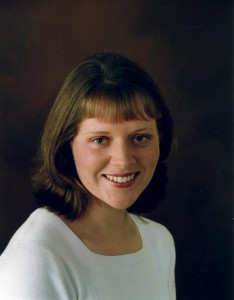 Natalie Williams is currently a Doctoral Fellow and Associate Instructor in Composition at the Jacob's School of Music at Indiana University, United States. She completed a Masters Degree in Composition at the University of Melbourne in 2002 and holds a Bachelor of Music from the University of Adelaide (Elder Conservatorium), graduating with first class Honours in 1998. In July of 2007 she furthered her studies in composition at the European American Musical Alliance summer school at the Ecole Normale de Musique in Paris. She has studied under composers; Aaron Travers, Don Freund, Claude Baker, Robert Beaser, Brenton Broadstock and Graeme Koehne.
In March 2010, Natalie's Doctoral Composition Recital was staged at the Jacobs School of Music, Indiana University, featuring solists: Morgan Harrington, Brian Ciach, Daniel Stein and Kevin Arbogast, and conductor, Elliott Bark
Her works have been commissioned and performed by national and international ensembles, including the Adelaide, Melbourne & West Australian Symphony Orchestras, the Australian and Sydney Youth Orchestras, the Australian Chamber Orchestra, the Song Company, the Zephyr String Quartet, Adelaide Youth Orchestra, the Cameo Trio, Melbourne University Orchestra, Elder Conservatorium Symphony Orchestra, Fiorini Trio (UK), Syntony and the Brenton Langbein String Quartet. Her output includes music for film, theatre, chamber ensembles and orchestra.
Williams was a joint recipient of the Inaugural Schueler Awards for a new work "Whistleblower", commissioned for the Adelaide Symphony Orchestra and premiered to an audience of 30,000 in February 2007. Recent projects include a major commission from Adelaide Baroque for a series of four new works for their 2007 concert season, through funding from the Australia Council. She was the youngest Australian composer commissioned by the West Australian Symphony Orchestra to compose a Fanfare for their 75th Birthday series in 2003. She has worked with composers such as Philip Glass, Peter Sculthorpe, Brett Dean and Narcis Bonet and conductors Martyn Brabbins, James Judd, Kevin Field and Professor John Hopkins. In 2005 Williams was commissioned by the Cybec Foundation, with the Melbourne Symphony Orchestra for a new work for their Metropolis series which was premiered to critical acclaim. She was also commissioned by Ars Musica Australis to compose a Viola Concerto for the Australian Youth Orchestra's 2005 Young Symphonists Program.
Natalie has composed for the State Theatre of South Australia season performances (2002) and currently works as a copyist for international film score recordings.  In 2006 she won the APRA Professional Development Awards in the Classical Music category, and a scholarship from the Opus 50 Charitable Trust (Melbourne) enabling further overseas study. She reached the finals of the 2001 Young Australian of the Year Awards and held an Australian Postgraduate Research Scholarship for Composition studies at Melbourne University. In 2006 she was awarded a Jacob's School of Music Fellowship which includes full scholarship and a teaching position at the Indiana University School of Music. Natalie is a member of the Fellowship of Australian Composers, the Australian Music Centre and the Australasian Performing Rights Association. She has worked in arts administration, at the Australian National Academy of Music and on the management team of Orchestra Victoria.