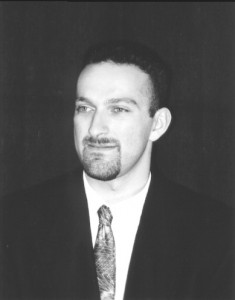 Paul Witney is a composer, musician and educator, with his works being in demand both nationally and internationally. He has studied with some of the finest Contemporary Australian Composers, including Nigel Butterley and Michael Smetanin. Paul has been awarded the 2MBS Young Australian Composers award for his piece "Zero Through Nine", having previously been highly commended for the work "Come To The Edge".
Paul Witney was selected to participate in the inaugural Australian National Academy of Music's Composition programme, writing a work for the Zurich Ensemble for New Music. He was composer in residence at the 2001 "Border Music Camp" having six premieres of works written for this camp. The 2001 Border Music Camp composer in residence scheme was nominated for an APRA/Australian Music Centre Award in 2002 for
'The most distinguished contribution to the advancement of Australian Music in a regional area '.
Paul was once again invited to be Composer in Residence at Border Music Camp 2004, which saw seven premieres in their 30 year final concert celebrations. This was again nominated and subsequently won the APRA/Australian Music Centre award.
During 2005, Paul has toured the Netherlands to see the European premiere of his Trombone Concerto, featuring the Australian trombonist Greg Van Der Struik as soloist. In October, Australia Pro Arte performed the work "Spectra" commissioned by Fr. Arthur Bridge and Ars Musica Australis.
Paul has also been commissioned to write a large work to be premiered by Sydney based Aark Ensemble in 2006/07. The Sydney Chamber Choir have also commissioned a work to be performed in 2007.
2004 has seen premieres of a number of works for this young Australian Composer, including "Terra Lunae" for St Aloysius College, to commemorate the school's 125 th Anniversary and performed on 1 st March 2004, in the Sydney Opera House, Conducted by the Composer. The Western Australia Symphony Orchestra in collaboration with Symphony Australia, performed and recorded 'Nightscape II' in Perth . Paul has also been active in continuing to compose for young musicians. Projects in this area have included a set of four songs for Tara Anglican College Choir, based on Aboriginal Dreamtime Stories.
In 2003, Paul collaborated with several Contemporary Australian ensembles and soloists which resulted in a number of commissions and performances. These included "The Charm of Impossibilities" for new Sydney Contemporary music ensemble "Generator". The Trombone Concerto "Night Songs", which was premiered in June with trombonist Aidan Parkinson at the Newcastle Conservatorium Concert Hall. "Caryagiti" was composed for and performed by The Song Company in October. "Tarantella" commissioned by the Grevillea Ensemble, and performed in November
During 2002, Paul was invited to present a 'portrait concert' as part of "Groundswell", the Regional Arts Convention. The programme included works, which spanned his compositional life. Two newly commissioned works were also premiered; "Forge" for amplified recorder and electronics and "Nightsongs" for Baritone and small ensemble.
In 2001 Paul's work "Earth Rhythms" was selected to be performed at the International Youth Music Forum in Kiev , Ukraine , being the only Australian representative at this forum.
Other Premieres include:
"Rush" for Wind Orchestra was performed and recorded for commercial release by the University of Newcastle Wind Orchestra ,
"Nightscape" for solo Harp, recorded as part of the Brisbane "NOISE" festival,
"Ritual 2 fp" for Cello and "Thoughts too Deep for Tears", premiered by Eleanor Lewis
"Junk", a 25 minute work for "Country Youth Breakout", a theatre company based in Henty, using 'junk'percussion.
An electronic work to accompany the photographic exhibition "The Faces Of Albury".
Works for the Australian Youth Orchestra's "Young Australian Concert Artists" program. Two of his works, "Jubilee Fanfare" and "In Triumphal Procession" were workshopped and performed by the Brass Quintet.
A commission by the St. Matthews Consort for a work for choir and String orchestra, premiered in November 2002.
Paul has had a continuing interest in collaboration with other artists, including visual and performing artists as well as other composers. His association with various national and international musicians has resulted in performances of his works in places such as the Ukraine , Canada , USA , Holland , Brisbane , Melbourne , and Sydney .
During his time spent in Regional Australia, Paul was active in composing new music inspired by the local region, its landscape and its people. His interaction with local and indigenous Australians lead to exciting developments in new works with an Indigenous focus and historical inspiration.