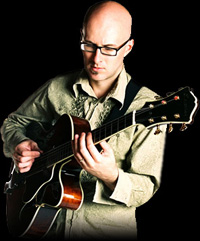 He has had orchestral pieces performed by the Queensland, West Australian and Sydney Symphony orchestras, written arrangements for rock bands like George, Rhubarb, Blind and Chris Pickering and been a member of countless jazz, rock and new music groups. He was also a member of composers collective Compost and has performed his original compositions all over Australia.
Since 2005, Wren has focussed on his solo career and has developed into one of Australia's most compelling and original artists. His mastery of styles and incorporation of unusual elements into performance and composition have seen his groups achieve national recognition. The Toby Wren Trio's 2006 release Umlaut was launched at the Brisbane Powerhouse and The Brisbane Festival Spiegeltent and toured nationally in 2007 with assistance from the Contemporary Music Touring Program (DCITA).
Toby Wren's most recent CD release Everything Must Go features world saxophone competition winner Jamie Oehlers with Georgia Weber on bass and Joe Marchisella on drums. The CD moves through seven tightly constructed original compositions with electrifying solos and interplay by Wren and Oehlers.
Toby Wren has given masterclasses and workshops at the Queensland Conservatorium and QUT and maintains a strong web presence through www.tobywren.com and www.myspace.com/tobywrentrio.
Toby is currently doing a Masters degree in performance at the Queensland Conservatorium in which he is collaborating with South Indian musicians to develop Indian-Jazz fusion projects with possibilities for touring in India and Australia.
Recent projects include India Study Tour in 2006 (Wren travelled to India to study and collaborate with master musicians from the Carnatic - South Indian classical - tradition, U Srinivas and R Prasanna) and Umlaut National Tour, funded by the DCITA Contemporary Music Touring Program. After returning from India, Wren he formed the Carnatic-Jazz Experiment which has explored the middle ground between these two improvising cultures. At the end of 2008, he returned to India to collaborate and study advanced concepts in Carnatic music with master musicians with the hope of developing a cross-cultural product for international touring.
Wren was invited to perform at the inaugural Adelaide International Guitar Festival in Dececember 2007 as part of the 'Jazz Masters' Program. He was nominated for the Freedman Fellowship 2008.