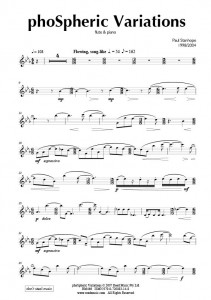 The term "variations" in this work is used somewhat loosely and does not conform to the strict connotation of the classical "Theme and Variations" form. Rather, it is used in the sense that the presented themes are decorated and varied over a repeated ground bass in much the same way as in a Chaconne. Material for this work was drawn from an earlier work Phospherics. This title came from a series of word associations:
Phosphorous: phosphorescent, luminous, green, nature. Spherics: spherical, circular, cyclical, cycles.
Versions of phosphoric Variations were originally composed for alto saxophone and piano, then later for clarinet and piano and flute and piano.