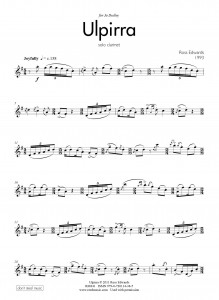 The Australian recorder player Jo Dudley commissioned this brief, virtuosic solo.
Ulpirra is an Aboriginal word meaning pipe or flute. It has been performed and recorded on many different treble instruments apart from the recorder: piccolo, flute, oboe, B-flat and E-flat clarinets, a special version for bass clarinet with handclapping accompaniment in Enyato IV, and soprano or alto saxophone.
Being short and snappy it is especially useful as an encore piece for recitals.