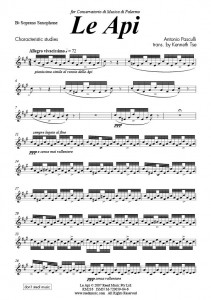 Performed by Kenneth Tse
Also available for Alto Saxophone
Antonio Pasculli was born on October 13th, 1842 in Palermo.  He began his career as a virtuosic oboist at the age of 14 and by the time he was 18, was professor of oboe and English horn at the Regio Conservatorio di Palermo, a position he held until he became blind in 1913.
He was appointed director of the Corpo Municipale di Musica di Palermo in 1879, but due to his advancing blindness he withdrew from active concert life in 1884 and lived until 1924. Pasculli composed numerous fantasies for oboe and orchestra on themes from the operas of Bellini, Donizetti, Meyerbeer, Rossini and Verdi. His compositions were often considered to be too difficult to be performed and therefore were forgotten by oboists until modern times.
Le Api for oboe and piano was first published in 1905 and was dedicated to the Conservatorio di Musica di Palermo. Although similar to Rimsky-Korsakov's Flight of the Bumble Bee, Le Api was written first, and is part of the three virtuosic studies Pasculli wrote for the oboe. From a postscript to the third study we learn that these were first performed in the big hall of the Conservatorio di musica in Milan on July 14, 1874.
The long legato ties are performed with circular breathing and there is only one place where the player can take a breath (break between phrases) in the entire piece.