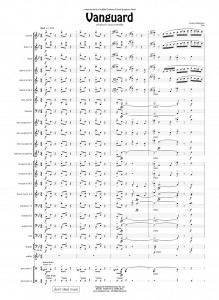 Performed live by Caulfield Grammar School Symphonic band. Directed by Simon Brown.
Performed by the Grainger Wind Symphony
"Vanguard" was commissioned in 2006 by Caulfield Grammar School for their Symphonic Band, Simon Brown director. It was used on their overseas tour as a concert opener, and for this reason it displays all the energy and flamboyance of a fanfare. The word vanguard refers to an advance group, like trail blazers, and should convey an attitude of confidence and enthusiasm to any audience.
The opening two note patterns should define this feeling very strongly. They expand into a passage full of energy, which in turn prepares the listener for the main melody which follows. After the band reaches a climax, several short soloists lead to a more relaxed version of the tune, which in turn dies away to a slow, reflective middle section. A solo clarinet is soon joined by the rest of the band, who rise and fall back to the original two note pattern. Distant drums herald a build up to the return of the opening music, which is let loose all over again, but this time with a powerful rendition of the melody from the middle section of the work. The final bars of "Vanguard" should epitomize all that a fanfare needs to be: exciting, thrilling and fun to play.