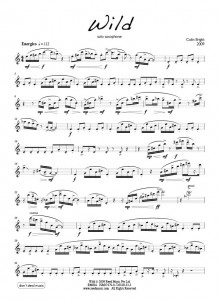 Wild explores a tonal plateau based primarily around E with other sections centered on A, Bb, and C.  Jazz influences are quite evident in the phrase structure and the harmonic implications.
The sections with repeated Es (eg bar 13) should have a raw primal quality, while the rapid passages have a skittering quasi-improvisational character.
Suggested multiphonic fingerings are notated in the score.  If they do not reproduce well on your instrument, modifications are acceptable, but must be in keeping with the character of the piece.
I would like to acknowledge James Nightingale for the recommended fingerings and thoughtful and practical suggestions.