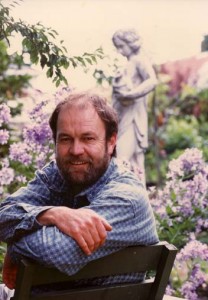 From organs to orchestras, car horns to choirs, ballads to ballet, Philip Norman's work as a composer spans the breadth of the performing arts. He has had works commissioned or performed by most of the leading music, theatre and ballet companies in New Zealand.
He was born in Christchurch in 1953 and educated at Rathkeale College Masterton 1967-71 and University of Canterbury where he graduated with a BA (Music and English) 1975, MAHons (Musicology) 1977, PhD (Musicology) 1984. He also trained at Christchurch Teachers College in 1977, graduating A+ in teaching practice.
Since 1978 he has worked freelance as a professional composer and writer with additional work including musical direction, conducting and broadcasting. He was principal music reviewer for the Christchurch Press for much of the 1980s, co-founder and director of Nota Bene Music Publishing Co from 1979 and was active through the 1980s as a committee member, secretary and president of Composers' Association of New Zealand. From 1991-95 he was musical director of the Christchurch School of Instrumental Music and in 1992 was composer in residence with the Christchurch Symphony Orchestra, the only composer to have held a residency with that orchestra.
He has composed and arranged well over 200 pieces including 'Footrot Flats' and 'Love Off The Shelf' (stage musicals with book by Roger Hall and lyrics by A.K. Grant), 'Peter Pan' (ballet with choreography by Russell Kerr), 'Plumsong' (choir), 'The Juggler' (orchestra) and 'A Christmas Carol' (opera), all numbering amongst the most performed works by a New Zealand composer in their fields. As a writer, he compiled three editions of the 'Bibliography of New Zealand Compositions' which in 1992 formed the beginnings of the SOUNZ computer database of New Zealand composers and compositions.
His recent biography of New Zealand composer Douglas Lilburn is a finalist in two categories in the 2007 Montana Book Awards. He is the 2007 Ursula Bethell Creative Writer in Residence at the University of Canterbury English Department and while there is working on a general history of New Zealand composition.
He lives in Christchurch with his wife Alison, their four children and an array of pets.