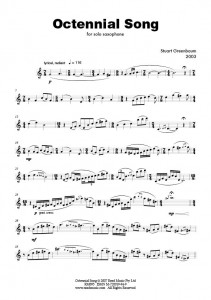 Performed by Barry Cockcroft
A CD recording is also available.
Octennial Song was written by the composer to celebrate his union with Marianne Rothschild on October 10, 2003. The day of the wedding was also their 8-year anniversary, which explains the title ('octennial' pertaining to a period of eight years). The piece received its first hearing during the signing of the register in the 'Elizabeth Room' in Lonsdale St. Melbourne under the auspices of the Victorian Register of Civil Marriages. It was performed by Barry Cockcroft on a soprano saxophone (for which it was originally conceived), though it may be played on any saxophone in a spirit of radiant happiness.