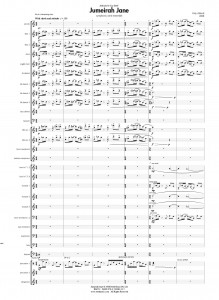 Performed live by Grainger Wind Symphony
The term 'Jumeirah Jane' is a colloquial Dubai description of an expatriate woman who has accompanied her husband to Dubai and lives the high life in the lovely beach suburb of Jumeirah (pronounced Joo-mear-ah as in 'hear').  In the initial stereotype, a Jumeirah Jane spends her days at the gym, the café and ferrying her children to soccer and ballet lessons in between mani/pedicures and organising her staff.  Further research on chat-sites, blogs and information boards (which can be quite heated and opinionated – just google 'Jumeirah Jane') suggests that a Jumeirah Jane lives in Dubai with no understanding of her cultural environment nor inclination to learn.  At the most extreme (negative) end of the continuum, a Jumeirah Jane thinks herself above those around her.
This piece is a response to my initial observations of such women and a cheeky play at the imagined attitudes they have towards others in Dubai, strutting their stuff around the footpath with a superiority complex over people from other cultures who come here to work to support their families at home.  It is perhaps also written in response to my niggling fear that I may be thought of as Jumeirah Jane myself – because really, pedicures are lovely, I love my coffee and I ferry my children to and from school!  Perhaps I will have to learn how to spend more on designer clothes and stop work to strut my stuff at the beach and shopping malls!
This piece is dedicated to my little God-daughter Isobel - quite sure of the fact that (although beautiful) she will one day not become a Jumeirah Jane of Sydney! - KA